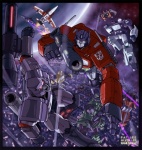 Dreamwave Productions announced that it is ending its association with Image Comics effective in April 2002. All issues solicited for delivery dates through March 2002 will be released and published under Image. Starting in April, Dreamwave Productions will assume all publishing duties.
In a statement released with the announcement Dreamwave Productions took pains to praise Image and thank the publisher for its assistance: 'Image has been nothing but supportive of Dreamwave and the benefits are immeasurable but we feel that it is time to take the next major step in this industry and publish under our own banner. We thank Image for everything they have done for us and wish them all the best in years to come. Our titles will all continue as previously scheduled and there shall NOT be any skipped months (where no issues are being produced) for the transition.'
The artists who form the creative core of Dreamwave Productions specialize in a manga/anime influenced graphic style, which when combined with computer coloring, often produced stunning visual results in books like Warlands: Age of Ice, and Shidima.

Image was quick to spot the trend toward Japanese style graphics and the publisher certainly put Dreamwave Productions on the map long before the Marvel Mangaverse ever became a destination.

It should be interesting to see how Dreamwave Productions manages to fare on its own.