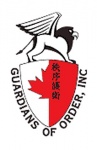 Author George R.R. Martin has disclosed that the Canadian role-playing game publisher Guardians of Order is now out of business. Writing on his Website, Martin, whose work provided the basis for the elaborate RPG volume, A Game of Thrones published by Guardians of Order (see 'A Game of Thrones'), reports that he has contacted GOO Owner and President Mark MacKinnon, who confirmed that he is shutting down the company's operations.
Founded in 1996, Guardians of Order published a number of innovative games over its decade-long run including the first major anime RPG, Big Eyes Small Mouth; the comic book-based RPG Silver Sentinels; as well as a number of gaming/anime fan books on series such as Trigun, Fushigi Yugi, Serial Experiment Lain, and Neon Genesis Evangelion. Most GOO games featured the company's own 'Tri-Stat' gaming system.
The demise of Guardians of Order can be seen as the inevitable result of the continued softening of the RPG market, but another factor played an important role. With most of its sales in the U.S., Guardians of Order was severely hurt by the recent decline of the U.S. dollar against the Canadian dollar, which devalued the majority of the company's sales.
Guardians of Order's Mark MacKinnon is currently trying to arrange the transfer of GOO's strongest properties to other publishers.