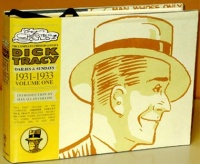 IDW has revealed Ashley Wood's striking cover design for the first volume of hardcover reprints of Chester Gould's classic Dick Tracy comic strip. The first volume of The Complete Chester Gould's Dick Tracy ($29.99) includes Sundays and dailies from 1931-1933 and features an introduction and overview of the series by longtime Dick Tracy comic strip writer (and crime novel and comic book writer) Max Allan Collins, as well as an extensive interview Collins conducted with Chester Gould.
Don't expect any origin stories in this no-nonsense depression era collection. Gould's straight ahead narrative style has no place for backstories--he immediately pits his square-jawed detective against a host of evildoers, while introducing a number of key continuing characters such as Chief Brandon, Tess Trueheart and Junior.
With Fantagraphics currently reprinting both Peanuts and Dennis the Menace, Drawn & Quarterly publishing collections of Gasoline Alley, and now IDW's Complete Chester Gould's Dick Tracy, this is beginning to look like a new golden age of comic strip reprints.
While Amazon will be carrying Volume 2 in IDW's Dick Tracy series, which is slated for a March release, it is not carrying Volume 1, which is due out in October.