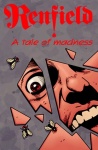 Desperado Publishing and Image Comics are re-releasing Renfield: A Tale of Madness, a graphic novel by Gary Reed and artist Galen Showman in November ($19.99 MSRP).
First published by Caliber in 1996, the new release will be presented in the original black and white format, run 192 pages, and will include letters, notes, and journal entries similar to the format used in Bram Stoker's Dracula novel.
Renfield appears in the original novel as Dracula's tormented servant who eats bugs and can sense his 'Master's' presence and moods. A Tale of Madness focuses on Renfield's inner struggles and decent into madness due to his unfortunate work situation.