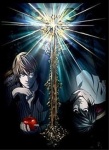 The Anime News Service has an interesting article up about the wrap-party for the first episode of the Death Note anime series, which debuts on Japanese TV at 12:56 am on October 3rd. ANS refers to Death Note as 'more than likely the biggest anime TV series to debut this fall,' and we at ICv2 are predicting big things for this series when it hits the American market.
Just as it wasn't hard to predict that the Naruto and Bleach anime series would do well here, singling out the Madhouse-produced Death Note from among the 156 anime series debuting in Japan this year is a no-brainer given the fact that the Death Note manga has already made the top ten in our Top 50 Manga Properties list (see 'ICv2's Ten Most Powerful'). The fact that ANS reports that 'the animation quality in Death Note is drastically higher than other midnight TV series,' and that 'it is more violent than usual' can only serve to whet the appetite of American fans.
Meanwhile Viz Media, which publishes the English language version of the Death Note manga, has inked deals with Ediciones Glenat Espana in Spain, Panini in Italy, Tokyopop in Germany, and Dargaud Lombard in France to publish Spanish, Italian, German, and French editions the Death Note manga, starting this fall. The on-going Death Note series (12 volumes in Japan so far) has already sold over 8.2 million copies in Japan where it is published by Shueisha (Shonen Jump).
Warner Bros. is financing a live action movie based on the property (see 'Warners Financing Live Action Death Note Movie').