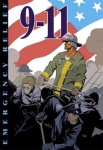 Alternative Comics has announced that 9-11 Emergency Relief, its benefit book for the American Red Cross, is the #1 graphic novel on Diamond Comic Distributors' bestseller list for January. Retailers are apparently expecting that the extremely strong sales on Heroes, Marvel's benefit/tribute book (see 'Heroes Will Hit $1 Million Retail'), will carry over to benefit books from other publishers.
The book has grown from when it was originally announced to 208 pages; the price has remained at $14.95. Over eighty creators have contributed work to the book (see '9-11 Emergency Relief Ships in January'), which is expected to ship from the printer January 11, 2002.
Also in the pipe for January is September 11, the DC/Dark Horse/Chaos two-volume set, although it is being solicited via a rush solicitation and as such does not appear in the top products ordered for January (see 'DC Joins Dark Horse...'). Based on the orders for the other two major benefit books (above), this set is also expected to do well.
In addition to the three projects mentioned above, Dynamic Forces has raised over $100,000 (see 'Dynamic Forces Raises $100,000...').

Collectively, the comic industry may well end up raising over $1 million for various 9-11 charities, an admirable total for an industry its size.