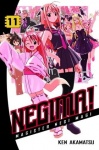 Paid Advertisement. ICv2 is offering retailers a chance to win over $1000 worth of Del Rey manga volumes just by subscribing to ICv2's free daily e-mail newsletter.
Over the past few years, Del Rey has grown to be one of the most important manga publishers in North America. Our graphic novel prize from Del Rey is two to three copies each of eight of its most popular manga series, including Negima, xxxHolic, and Tsubasa.
- 3 each Negima Vol. 1-11
- 3 each xxxHolic Vol. 1-7
- 3 each Tsubasa Vol. 1-10
- 2 each Air Gear Vol. 1
- 2 each Q-Ko-Chan Vol. 1
- 2 each Sugar Sugar Rune Vol. 1-2
- 2 each School Rumble Vol. 1-2
For more information on this exciting promotion for new subscribers, see 'Retailers--Win $1000 Worth of Merchandise.'
To subscribe to the free ICv2 e-mail newsletter, click here.
To find out more about the various titles published by Del Rey manga, click here.