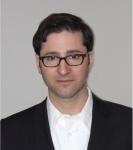 Marc Weidenbaum, who started at Viz Media as the Managing Editor of Shonen Jump and was then promoted to Editorial Director after helping launch the Naruto Collector magazine, has been named Vice President Magazines and Editor-in-Chief of Shonen Jump and Shojo Beat magazines.
Before joining Viz Media, Weidenbaum was an Editorial Director at Citysearch.com, and prior to that he was an editor at Pulse!, the pop culture magazine published by Tower Records.
Weidenbaum replaces Yumi Hoashi who has left Viz Media -- reportedly for a position with Konami, though no announcement has been made at this time. Hoashi was one of the ten most powerful people in the U.S. manga business in the recently published ICv2 Top Ten Most Powerful list (see 'ICv2's Top Ten Most Powerful').