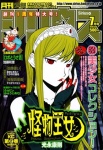 Anime on DVD is reporting that Del Rey has acquired Mitsunaga Yasunori's Princess Resurrection (Kaibutsu Oujiyo in Japan) manga series. This gothic horror series is quite new with just two volumes available in Japan (the first was published in January 2006) and it should provide American fans with a good look at a cutting-edge gothic-tinged contemporary Japanese horror manga, though its recent gestation will also mean a longer wait between volumes.
As can be deduced from the fact that Del Rey is publishing it, Princess Resurrection is published in Japan by Kodansha. The manga is being serialized in the anthology magazine Sirius where it was a recent cover feature (the cover image provides a prime example of the manga's art style). The cute, but take-no-prisoners, chainsaw-wielding heroine of this series battles the forces of darkness with the help of a zombie servant and a robot sidekick--and the result is a bloodsoaked but stylish horror series with the body count of an Evil Dead movie.
Manga-ka Mitsunaga Yasunori also created the 3-volume Trafficker manga series.