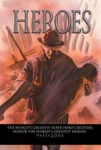 Here are ICv2's Top Five Comic Stories of 2001. These rankings are based on the response of our users and our own assessment of the business impact of these events on pop culture retailers.
1.Comics bottom? The first three quarters of 2001 were rough in the comics industry. Orders on comics hit new lows (see our exclusive coverage--'Top Comics Below 100,000,' and 'Sturm und Drang in the Comics Industry'), and graphic novels were the only bright spot in an otherwise dismal picture. On the eve of the San Diego Comic Convention, no less than the LA Times wrote of the 'disappearing comic book' (see 'LA Times Cites Disappearing Comic Book'). The year ended on quite another note, with comic sales surging in the fourth quarter behind a summer of strong sell-throughs in pop culture stores (see 'Q4 Comics 2001 Bright Spot') and strong industry PR.
2.9/11 books raise money and comics industry profile. When the terrorist attacks struck the U.S. on 9/11, Marvel's reaction was strong on several fronts -- creatively, philanthropically, and beneficial to the industry. Heroes, its first tribute/benefit book, was on sale less than five weeks after the events, with strong splash pages, poster art, and limited narrative. Behind a strong PR effort, including multiple TV appearances by Marvel EIC Joe Quesada, the book sold like crazy, and has just gone back to press for its third and final printing (see 'Heroes Will Hit $1 Million Retail'). More recently, Amazing Spider-Man #36 sold out immediately and leapt ahead of others to become the #1 comic in November (see 'Top 10 Cool Comics'). Marvel recently announced that former New York City Mayor Rudy Giuliani will write the foreword for 'Moment of Silence,' another special project to be released in January (see 'Giuliani Will Write Foreword for Moment of Silence'). Marvel recently announced that it had already generated over $700,000 in contributions for the Twin Towers Fund. Dynamic Forces has generated over $100,000 with its 9/11 efforts, including autographed versions of Marvel's special books. And there are two other non-Marvel projects in the pipe, both of which promise to generate considerable news and funds for good causes as well (see '9/11 Emergency Relief Tops in January' and 'DC Joins Dark Horse...').
3.Dark Knight sequel -- return of the million dollar comic. The first issue of the sequel to Frank Miller's groundbreaking Dark Knight series of 15 years ago became the first comic to exceed $1 million at retail in at least five years (see 'Return of the Million Dollar Comic'), and with overprints and reprints, the total will undoubtedly be much more (see 'DC Back to Press...'). With over 500,000 trade paperbacks of the first series in print (see 'Dark Knight Strikes Again Headed for Bookstores'), Dark Knight Strikes Again can help to remind hundreds of thousands of former comic consumers that comics are worth buying, and Miller's reputation has the potential to bring in many more.
4.Marvel mounts massive outreach program. Using both sell-through and promotional programs, Marvel reached out to new, young consumers in family venues this fall. In addition to reprinting its Ultimate series for Walmart (see 'Marvel Reprints Ultimate #1s for Walmart,' the article that broke the story), Marvel also used the same books as promotional giveaways in shoe stores and toy stores, sampling on a scale that hasn't been seen in the comics industry in some time (see 'At Least 6 Million Ultimate Spider-Man #1s in Print'). Reaction from pop culture retailers was mixed (see 'Retailers React..., Part 4' and the links to earlier reactions from that article).
5.Marvel's no overprint/no reprint policy.

Marvel's announcement that it would no longer overprint and would not reprint its books drew praise from retailers that saw it as a sign that comics might once again become more collectible and ire from those that saw it as an attempt by Marvel to manipulate the market and as limiting sales.

When Marvel President Bill Jemas said that retailer reaction to the policy was an 'IQ Test for Retailers' (see 'Jemas -- Marvel's No Overprint Policy Is IQ Test for Retailers'), discussions of the topic took on a much more heated tone.

The subject also sparked some of the most spirited exchanges between the Big Two comics publishers in years (see 'House of Ideas vs. House of Reorders,' and 'Dueling Majors').

Retailer concern over the subject carried over to the end of the year, when retailers that wanted more of the hot-selling Amazing Spider-man #36 were disappointed (see 'No Stand-Alone Reprint of Amazing Spider-Man #36').