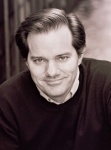 Viz Media Executive Vice President John Easum, one of ICv2's Ten Most Powerful People in Anime (see 'ICv2's Ten Most Powerful'), will become President of Viz Media Europe, which will relocate to Paris.
The new company will be called Viz Media Europe, S.A.R.L. Viz Media had previously managed its European operations from Amsterdam (see 'Viz Forms European Joint Venture').
Easum will oversee all of the company's operations in Europe, Africa, and the Middle East. He has previously lived and worked in France, and speaks fluent French and Japanese. Before his tenure as EVP of Viz Media, Easum had served as a SVP of ShoPro, one of two companies that merged to create Viz Media (see 'Manga Merger!').