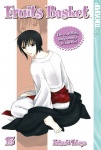 Natsuki Takaya's Fruits Basket Vol. 15 from Tokyopop was the best-selling graphic novel during one of the busiest weeks of the year at the nation's bookstores. In one of the strongest weekly performances by a graphic novel all year the latest volume of the most popular shojo series in both Japan and the U.S. sold over 12,000 copies for the week ending December 17th. To put it in perspective, it was good enough for only the number five spot on the BookScan list, which also includes comic art calendars (ICv2 does not) and which was topped by the 2007 edition of Gary Larsen's Farside Box Calendar that sold over 143,000 copies during the same week.
The latest volume in Viz Media's popular Naruto series, Volume 12, which topped the BookScan chart during the previous week, finished a strong second. Altogether there were four volumes of Naruto in the top ten including Volume 1, which sold over 2,700 copies (a good indication of how many new readers are joining the swollen ranks of Naruto fans) and came in seventh followed by Naruto Vol. 2 in eighth and Naruto Vol. 11 in ninth. Viz Media's Bleach Vol. 16, which finished in fifth place and Del Rey's xxxHolic Vol. 8, which came in tenth, were the only other manga volumes in the top ten.
Non-manga titles accounted for 16 of the top 50 spots on the charts (ICv2 does allow comic-related art books and manga and anime-related novels in our rankings). Thirty-two percent may not seem that high, but when you are talking about non-manga graphic novels selling in the manga-dominated bookstore market, it is an 'epic' performance and represents in considerable part the holiday-related sales of gift books including the Rejection Collection of would-be New Yorker cartoons, which came in third and DK Publishing's Marvel Encyclopedia, which finished fourth. Frank Miller's 300 graphic novel continues to sell well in advance of the March release of Zack Snyder's film adaptation and ended up in the sixth spot.
Houghton Mifflin's Best American Comics of 2006 anthology (edited by Harvey Pekar) finished 13th, followed by Marvel's Halo Graphic Novel at #14, a reprint of Charles M. Schulz's Happiness Is a Warm Puppy at 17 and the movie-related V for Vendetta (the best-selling non-manga graphic novel of 2006) at #19. Ivan Brunetti's Anthology of Graphic Fiction from Yale University Press, which retails for $28, finished at #25 due in part at least to a rave notice in The N.Y. Times (see 'N.Y. Times Does Graphic Novels'). A number of other pricy titles did very well (and would obviously be ranked much higher if we used dollar sales rather than unit sales) including DC's Absolute Sandman ($99) at #38, Scott McCloud's Making Comics ($22.95 from Harper), Publisher Group West's X-Men, The Characters and Their Universe ($75) at #45 and Cartoon Book's Bone: One Volume Edition ($39.95) at #47.