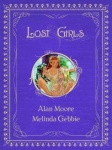 The third printing of Top Shelf's Lost Girls started shipping last week, running the cumulative total of $75 copies sold in to around 35,000 copies. For the first time since the book was released in late August (see 'Lost Girls Sold Out'), it is currently available for reorder from Diamond Comic Distributors (comic trade) and Diamond Book Distributors (book trade and libraries).
Back orders ate up about 75% of the 20,000-copy third printing; only about 5,000 copies remain of the red-hot Alan Moore and Melinda Gebbie three-volume erotic graphic novel.
Both of the first two 10,000-copy printings sold out the day they were released.