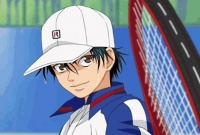 Viz has released its list of releases for April and May, and the biggest news on the anime front is that Prince of Tennis, which has been airing on Cartoon Network's Toonami block (see 'MAR and Prince of Tennis Debuting on Toonami') will launch on DVD in April, with an April 24th street date.
On the manga side, three new series will launch in April. The first volume of Shakugan no Shana, by Yashichiro Takahashi, will street April 17th. A novel, Shakugan no Shana: The Girl With Fire In Her Eyes, will be released the same day. Geneon launched the anime on DVD in September (see 'Geneon Announces Shana').
The first volumes of Millennium Snow, by Bisco Hatori, and Dragon Drive, by Ken-ichi Sakura, will street April 3rd.