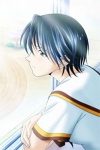 FUNimation has acquired the rights to the 26-episode Suzuka anime, which is based on Kouji Seo's 14-volume (and counting) manga series. Produced by Studio Comet, the anime captures the tone of the sexy harem comedy/romance manga, which includes enough fan service to warrant Del Rey shrink-wrapping it (see 'Del Rey Shrink-Wrapping Mature Titles').
Yamato, the teenage protagonist of the manga series, comes to Tokyo to live with his aunt (who operates a female-only bathhouse) and attend a special sports high school where he is smitten by a beautiful high jumper.
FUNimation plans on releasing the first volume of the Suzuka anime series, which was broadcast in Japan in late 2005, on May 1st in both regular (MSRP $29.98) and Starter Set (MSRP $39.98) editions. Del Rey will release the third volume of the Suzuka manga in March.