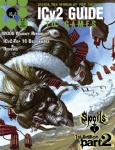 An ICv2 Release. ICv2 has announced the release of the ICv2 Guide to Games #41, which is being released to the trade by Alliance Game Distributors, Diamond Comic Distributors, GTS Distribution, Lion Rampant, ACD and others.
This issue is loaded with industry insights, including:
2006 Market Report: Sales Revive in 2006
Kovalic cartoon on the WizKids exclusive with Diamond/Alliance
ICv2 Top 10 CCGs
ICv2 Top 5 CMGs
ICv2 Top 5 Non-Collectable Miniature Games (formerly the Unpainted Miniature Games category)
ICv2 Top 10 Board, Family, and Card Games
ICv2 Top 5 RPGs
ICv2 Game Reviews
For those interested in subscribing to the ICv2 Guide, please visit the ICv2 Online Store (click here). For game retailers, if your distributor is on the list above, just ask for your free copy of the Guide; or if not, e-mail Dennis Viau at our office at dviau@icv2.com to request a copy.