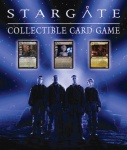 Both the Stargate CCG (see 'Stargate CCG in January') from Comic Images and the online version from Sony Online Entertainment will launch in the next couple of weeks, the first time that a CCG and its online version have launched simultaneously (or nearly so).
The two releases are carefully balanced for symmetry. There are no special cards in the online version that are not available in the CCG; and packs and starters carry the same prices ($3.99 and $10.99, respectively) online and in the real world. 'It's a level playing field,' Comic Image's Alan Gordon told us, calling the pricing of the two versions, 'apples to apples.'
Promotions will also cross-promote the two versions, including a physical promo card as a premium for sign-up for the online version, and planned offers by which virtual cards from the online version can be exchanged for physical cards. 'We hope that by exposing the online players to the physical cards,' Gordon said, 'that they might find a store and give the card game a try.'
Distribution on the Stargate CCG is hobby only. An organized play program is expected to launch by the week of May 7th. The first Tournament Kits will include prize cards and be priced relatively inexpensive. Comic Images is working with MGM on special premiums for later Kits similar to those it is able to include in its Raw Deal kits (e.g., DVDs, or autographed premiums).
There's lots of Stargate feature action this year (see 'Two New Stargate Features'). Stargate: The Ark of Truth started shooting on April 15th and Stargate: Continuum will resume shooting on May 15th; some ice camp scenes were previously shot in the Arctic on location. And the name of the third Stargate series has been revealed as Stargate: Universe.