TableStar Games will release two new games in its HeroCard family (see 'TableStar Games Unleashes HeroCard') this year. Orc Wars, due out this month, is actually three SKUs that take the game system into a fantasy environment. The play pits Elves against Orcs; squads of Orcs are deployed by a single Orc player against one or more Elves. The base HeroCard Orc Wars game, which retails for $24.95, contains enough pieces to support a four player game and two heroes, the Paladin and Orc King. Two expansions, the Ranger Expansion and Sorceress Expansion, expand the play to four players for $9.95 each.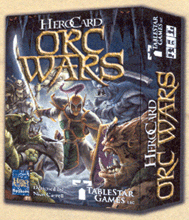 HeroCard Nightmare, due out in September, is a psychological thriller in which players exist in a dream world from which only one will awaken. It's a four player game out of the box ($34.95 MSRP).
The HeroCard family, which uses the same game engine across multiple genres, includes science fiction, medieval Japan, and superhero games to date.