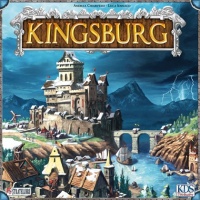 Will Niebling, who recently left Mayfair Games after a ten year stint as CEO (see 'Niebling Resigns as Mayfair CEO'), has formed a new company, Elfinwerks, to produce games. Niebling's new role in a small company allows him to focus on game development and design, according to a company spokesperson, the creative side of game publishing on which he wanted to spend more time.
Elfinwerks will publish around four games a year; for now, all will be joint U.S./European productions.
Elfinwerks' first release, slated for mid-October, is Kingsburg, a joint production of Elfinwerks and Stratelibri. It's designed by Andrea Chiarvesio and Luca Iennaco, with art by Mad4Gamestyle. It will be printed in Germany; simultaneous editions in German, French, Italian, Spanish, and English will be produced.
Kingsburg is for two to five players, ages 10 and up, and plays in about 90 minutes. Price has not yet been set.
The Kingsburg box will contain 21 dice, 15 wooden counters, 60 wooden 'goods' cubes, over 100 tokens, 25 cards, 1 pawn, five individual player boards, and one main game board.
The setting is a faraway fantasy realm. Governors must protect the king's land from external threats, while using the king's advisors and other assets to build up their provinces.
Kingsburg is a 'gamer's game,' according to an Elfinwerks spokesperson, who suggested that it would appeal to fans of Carcassonne, Tigris and Euphrates, or El Grande.