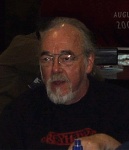 Gary Gygax, co-creator of the original Dungeons & Dragons RPG, is back with a fresh adventure module for the d20 system. Gygax's latest effort, The Hermit, conjures up the halcyon days of RPGs with a dungeon encounter, an underwater adventure, and much more. The 64-page module is complete with a host of intertwined adventures and features a cover by Daniel Horne, one of today's top fantasy artists. Priced at $11.95, The Hermit works with both the d20 system and the LA game system. Troll Lord Games plans to publish The Hermit in August.
Thanks to WOTC's free licensing of the d20 system, the number of new RPG releases continues to grow.

Troll Lords previously published Gygax's The Canting Crew sourcebook for the d20 system (see 'D&D Creator To Pen d20 Sourcebooks'), which detailed the underworld of a quasi-medieval city.