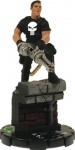 WizKids President Lax Chandra has released a statement announcing the company will be making several changes that are focused on "consolidating administrative functions with our corporate offices in New York." Although it will remain in Seattle, WizKids will be making some moves from a developmental perspective to align staff with its product portfolio. In streamlining its operations WizKids will be focusing on its three core brands: Marvel and DC HeroClix, the Star Wars PocketModel Trading Card Game and the Pirates PocketModel Game.
According to Chandra the Marvel and DC HeroClix games have been growing substantially since the release of the Avengers Expansion in 2007. The DC Crisis release sold at an unprecedented rate and preorders for the next HeroClix release, Marvel Secret Invasion, are "outpacing DC Crisis by 2 to 1" (see "HeroClix Secret Invasion").
WizKids plans to take advantage of the release of the Star Wars: The Clone Wars animated movie (and TV series), which debuts on August 15th (and moves to TV in October) with two Star Wars Pocket Model expansions, Clone Wars in July and Clone Wars Tactics in October (see "WizKids Plans Two '08 Clone Wars Releases").
Although Chandra did not announce any Pirates PocketModel releases, he did note that with a 4th Pirates of the Caribbean movie "on the horizon," WizKids will be configuring its Pirates line to take maximum effect of the property's potent movie franchise.