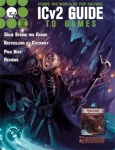 An ICv2 Release. ICv2 has announced the release of the ICv2 Guide to Games #56, which is being released to the trade by Alliance Game Distributors, Diamond Comic Distributors, ACD Distribution, GTS Distribution, Lion Rampant, and is also available directly from ICv2. According to the new Guide to Games, "It's been a solid summer for the games business across North America with limited impact from an economy that's been tough on other retail sectors."


This issue includes ICv2's analysis of sales throughout the game market this spring with ICv2's best-in-the-business bestseller lists for all the top hobby game categories. Once again ICv2 provides separate lists of the bestselling CCGs in the mass and hobby channels plus a composite list of the top 5 over-all CCGs. In addition to the bestseller lists and a roster of all the top upcoming products, the new Guide also includes a full complement of insightful reviews by Bill Bodden and Ward Batty.
For those interested in subscribing to the ICv2 Guide, please visit the ICv2 Online Store (click here). Or if you are interested in ordering a single copy of the ICv2 Guide #56: Games, please click here. For game retailers, if your distributor is on the list above, just ask for your free copy of the Guide; or if not, e-mail Dennis Viau at our office at dviau@icv2.com to request a complimentary copy.