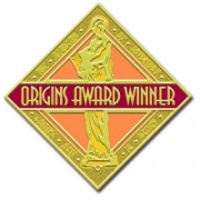 The winners of the 2008 Origins Awards were announced on Saturday Night at the Origins Game Fair at the Greater Columbus Convention Center in Columbus Ohio. The five finalists in each category were announced at the GAMA Trade Show in Las Vegas in April (see "Origins Finalists Announced").
The 2008 winners are listed below (categories are in boldface, winners in italics):
Miniatures Rules of the Year: Classic Battletech by Catalyst Game Labs
Minatures Line of the Year: Titanius Fury by Dragonfire Laser Crafts Inc.
Collectible Card Game of the Year: Legend of the Five Rings by Alderac Entertainment
Roleplaying Game of the Year: Aces and Eights by Kenzer and Co.
Roleplaying Game Supplement of the Year: Codex Arcanis by Paradigm Concepts
Traditional Card Game of the Year: Zombie Fluxx by Looney Labs
Board Game or Expansion of the Year: Starcraft by Fantasy Flight Games
Game Accessory of the Year: Call of Cthulhu Dice Set by Q-Workshop
Fiction Publication of the Year: Astounding Hero Tales by Hero Games
Non-Fiction Publication of the Year: Hobby Games: The 100 Best by Green Ronin
Historical Board Game of the Year: Ages of Empire III: Age of Discovery by Tropical Games
Historical Miniature Game of the Year: Check Your 6! by Skirmish Campaigns
Historical Miniatures Line of the Year: Romano-British 15mm by Splintered Light Miniatures
Hall of Fame Inductees: R.A. Salvatore, Vampire: the Masquerade (White Wolf), and Paranoia (Mongoose Publishing)