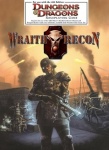 Mongoose Publishing and Goodman Games are among the prominent third-party Dungeons & Dragons licensees with a slate of 4th Edition products releasing later this year, while Necromancer Games looks to be joining Green Ronin Publishing (see "Green Ronin Says 'No' to GSL") on the sidelines.
October's Wraith Recon is Mongoose's brand-new setting that casts players in the roles of "special forces"-type adventurers in a dark fantasy world filled with spies and secret agendas. Also coming in October is The Adventurer's Equipment Guide, a 4E update of the popular d20 resource, outlining hundreds of essential pieces of gear for adventurers, while the Quintessential line of class-specific guidebooks will also be remade for 4E, starting with The Quintessential Wizard in November.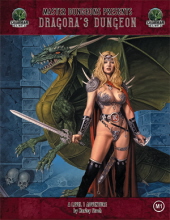 Goodman Games continues its Dungeon Crawl Classics line, with five 4E releases in September, along with
Xcrawl: IndyCrawl
, the low-level adventure
Dragora's Dungeon
, and the
Character's Codex
and
DM Campaign Record
accessories. Another Dungeon Crawls Classics, the
Forgotten Portal
, ships in October, as does
Forgotten Heroes: Fang, Fist, and Song
, which re-introduces four popular character classes: barbarian, bard, druid, and monk.
Meanwhile, Necromancer Games' President Clark Peterson issued a statement recently, labeling the GSL "a total unmitigated failure" and stating that his company would not be signing the GSL as currently presented. While Peterson made it clear that he bore Wizards no ill will and was "hopeful" that the GSL could be re-worked and that his company could produce 4E material in the future, the company's previously announced 4E products are on hold. A Beta version of the Pathfinder RPG, co-produced with Paizo Publishing and using the D&D v3.5 rules, is still set for an August release (see "Paizo Announces Pathfinder RPG").