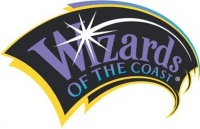 Wizards of the Coast announced today that it is restructuring "to focus on key growth strategies for core brands," which will result in job eliminations. A spokesperson for the company declined to reveal the number of positions eliminated, or their departments, but did say that the total job cuts were less than 5% of the workforce.
The renewed focus on its core businesses, specifically Dungeons and Dragons and Magic: The Gathering, has been driving a lot of decisions at the hobby gaming powerhouse recently, including cutbacks in its fiction program (see "WotC Refocuses Its Publishing Program") and the shutdown of its ambitious Gleemax online initiative (see "WotC Pulls the Plug on Gleemax"). This focus is also part of a larger strategy at parent Hasbro.
WotC President Greg Leeds said of the changes: "As a company, we will continue to be the leader in entertaining the lifestyle gamer. Re-aligning resources ensures we achieve this goal for our most powerful brands."
While some positions were eliminated as part of the restructuring, the company is also recruiting to fill open positions elsewhere in the company.