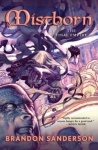 Crafty Games LLC, keepers of the Spycraft 2.0 license, will publish a new RPG based on Brandon Sanderson's Mistborn fantasy trilogy, for release in summer 2009 in both print and pdf formats.
The Mistborn trilogy (the third book, The Hero of Ages, releases in October) follows the path of Vin, a female thief making her living in the capital city of the Final Empire. She discovers her talent as a "Mistborn," allowing her to digest and process metals and produce a wide variety of magic-like effects, and uses her abilities to try and depose the immortal ruler of the empire.
"We're thrilled at the opportunity to work with Brandon to create a product capturing the unique magic, action, and intrigue that's made Mistborn such a hit with fantasy fans across the world," said Crafty Games' Alex Flagg. Crafty currently publishes Spycraft 2.0 under Mongoose Games' Flaming Cobra imprint, which handles the printing and distribution of the physical RPG products. A Crafty Games representative said that Mongoose "will almost certainly be handling the printing and distribution" of Mistborn.
Sanderson, an avowed RPG fan, will create content exclusively for the Mistborn RPG. He was selected by the widow of Wheel of Time author Robert Jordan to complete the series following Jordan's death in 2007. The final volume, A Memory of Light, is due in the fall of 2009.