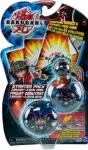 Jim Silver and Christopher Byrne, who for the past ten years have created the "hot list" of children's toys for the holidays for Toy Wishes magazine, have anointed Spin Master's Bakugan as one of the "must have" toy items of the 2008 holiday season. Their judgment has been echoed by a number of other toy industry observers who find Bakugan, with its collectable card game, miniatures game and marbles game elements, to be a potential blockbuster product. Byrne even compared the Bakugan toys that can fit in a child's hand and transform into action figure warriors to Pokemon because of the Bakugan toys' low price point ($4.99 for some items) and collectibility, noting: "That's a phenomenon we started looking at when Pokemon first came out. The hot toy is not prohibitive. Whatever a family's financial situation is, the kids have the cool thing."
Spin Master's Bakugan toys are supported by the Bakugan Battle Brawlers anime series, which began its run on the Cartoon Network in February of this year (see "Bakugan Anime Strong in Debut"). Currently the Cartoon Network is showing the Bakugan anime every weekday morning at 6:30am (ET, PT) and during its key Saturday morning block in the prime 11am (ET, PT) slot.
ICv2 has been tracking Bakugan since 2006 (see "Bakugan, An International Multi-Media Property") because of its combination of elements from collectable card games and collectable miniatures games and its marbles-like play action. Players collect magnetic cards and magnetic marbles and the gameplay involves rolling the marbles into an area where the magnetic cards have been set up—and if the marbles hit just right they open up and reveal a tiny monster.
Interest in the Bakugan toys has been building steadily, if not spectacularly throughout the year until now when Bakugan has been generally recognized as one of the hot toys of 2008. In June Spin Master estimated that the company would sell $100 million worth of Bakugan toys in North America in 2008 (see "First Bakugan DVD in August"). Now it appears that the company's estimate may have to be revised—upwards.