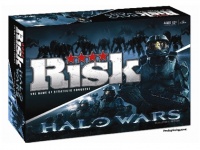 USAopoly has announced two new licensed games tied to major properties: Risk: Halo Wars Collector's Edition and Clue: 24 Edition.
Risk: Halo Wars Collector's Edition remakes Risk for the Halo Wars videogame world. Halo Wars, the newest release in the videogame series, streets in March; Risk: Halo Wars will street in July.
Risk: Halo Wars will allow players to command one of three factions (the UNSC, the Covenant, or the Flood) and battle for supremacy of Arcadia. The board freatures 42 territories and six sectors; 250 plastic playing pieces represent the three factions. It will use the new Hasbro rules that allow for three levels of game play (basic, advanced, and classic) depending on the skill level and desired playing time of the players. Play can be completed in as little as 60-90 minutes with no decrease in strategy. The game will be appropriate for players 12 and up. MSRP will be $39.95.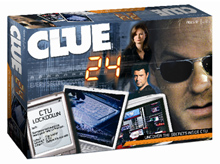 Clue:

24 Edition

adapts the classic board game to the world of the hit Fox TV show.

The board

will be a blueprint of the Los Angeles Counter Terrorist Unit office, and the traditional

Clue

suspects are now represented by CTU agentsw.

One of them is a mole that must be uncovered within 24 hours.

Eight clock cards, each representing three of the 24 hours, build the suspense--if the eighth card is drawn, time's up and the mole has won.

Clue: 24 Edition will be appropriate for players 9 and up; MSRP is $34.95. The game will street in March.