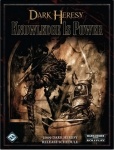 Fantasy Flight Games has announced its 2009 release schedule for its Warhammer 40,000 Roleplay: Dark Heresy product line, which includes three full sourcebooks and three linked adventures.
Creatures Anathema (streeting next week at $39.95) is a bestiary with the subtitle "The Enemies of Man are Legion." It's filled with a host of monsters and aliens and includes adventure seeds for inserting them into a game.
The Radical's Handbook (Q2, $49.95) delves into the dark world of the Radical Inquisitors, a pragmatic group with a fanatical devotion to Imperial doctrine, regardless of the consequences.
Ascension (Q4, $49.95) gives a boost to Acolytes of the Inquisition, offering new ways for them to wield power and advance in rank.
Also on the docket is The Haarlock's Legacy, a trio of adventures pitting the Acolytes against a force that threatens to undermine the Inquisition's work in the Calixis Sector. Tattered Fates (Q1), Damned Cities (Q2), and Dead Stars (Q3) will retail for $24.95 each.