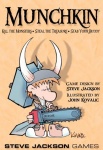 Artist and game designer extraordinaire John Kovalic let us know on Thursday that he'd completed his 2500th Munchkin card. Kovalic has produced all of the cards for the nine Munchkin card games and 16 expansions except for one game and one expansion (Munchkin Fu, for which cards were drawn by Greg Hyland). Kovalic has also done special cards for some of the foreign versions.
"My arms ARE tired," Kovalic confessed.
The Munchkin property has been incredibly successful since its launch in 2000; last year it accounted for 75% of the sales of Steve Jackson Games (see "Steve Jackson Games Issues Stakeholders' Report").