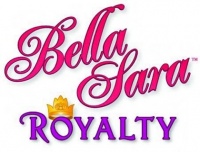 The ninth set for Hidden City Games' Bella Sara will be titled Royalty and will introduce a number of new elements to the girl-themed trading cards. Hidden City boasts of nearly five million registered users on its Website, and over 83 million cards have been sold in the product's two years of existence.
Sara, the goddess of the mystical land of North of North, will receive her own card in Royalty, which will also explore the noble traditions and families of North of North. In response to customer feedback, Royalty packs will also contain one Ticket Card per pack (a reduction from the five to seven code cards in previous packs), which collectors can use to go online and unlock items for their virtual domains. One ticket will include a secret code that leads to the new Bella Sara Adventures on the web site, allowing fans to participate in a number of new activities.
Bella Sara: Royalty releases June 2 in hobby and mass-market stores throughout North America, with an MSRP of $2.99 per pack (five cards, one sticker, one tattoo, and one ticket card per pack). The set also comes in a "Value Box" that contains four booster packs and a bonus foil card for $9.99.