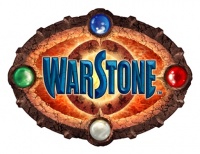 Duncan Toys, maker of trading card/marble game Warball (see "Warball Launches in March"), is going to begin marketing the game as Warstone, effective immediately. The new game will use the same mechanics as Warball, and Warball cards will be playable in Warstone. Inventory at the distributor and retailer level will be sold. The new mark will be unveiled at Gen Con.
The change is the result of a lawsuit filed last December by Noasha LLC, makers of Warbles (which also uses marbles), in federal court, alleging trademark infringement, unfair competition, and deceptive and unfair trade practices. The court ruled against Noasha in its request for a preliminary injunction last month, and the case is proceeding to trial. In his ruling, the judge said that "the plaintiff has not demonstrated a likelihood of success on the merits based on the likelihood of confusion," or "that it will be irreparably harmed if I do not grant its motion."
Duncan is endowing Warball cards with special powers that will be announced shortly, making them powerful tools in the Warstone game.
There was an unannounced collectible feature in the initial Warball release: redemption cards for numbered cards signed by Adam Gillespie, Stan Shaw, and Shane Nitzche, who created most of the card artwork for Warball. Only 1400 redemption cards were included, in the Warball Battle Box and Skirmish Packs.
The first new product under the new mark will be a booster product; the release date is TBA.