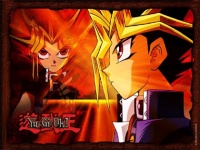 Yu-Gi-Oh's
television ratings remain strong and the WB network has ordered an additional 39 episodes of the popular series from packager 4Kids Entertainment. The new episodes will start airing in the fall and will bring the total available in the U.S to 65.
While the availability of the Upper Deck
Yu-Gi-Oh! CCG
in the hobby remains a source of consternation to retailers (see the
ICv2 Talkback Section
for a number of retailer comments), the popularity of TV show, which heads the Kids WB Saturday morning block, indicates that the
Yu-Gi-Oh!
phenomenon is here to stay, and if Upper Deck can get the kinks out of its hobby distribution program, the
Yu-Gi-Oh! CCG
could be the number one gaming product of the year.
According to a press release from the Kids WB, Yu-Gi-Oh! earned the highest Boys 6-11 rating/share this season with 9.5/34 on Saturday, May 18. The show ranks number one overall with both Boys 6-11 and Tweens 9-14. Yu-Gi-Oh! reigns supreme over its broadcast competition in kids 2-11, Boys, 2-11, Kids 6-11, and Tweens 9-14.
In the new episodes that will start appearing this fall Yugi and his friends compete in the Duel Monsters tournament against the evil Maximillion Pegasus. The additional 39 episodes should provide the Kids WB with a number of options, including taking the show daily again next spring (see 'Yu-Gi-Oh Goes Daily'). The daily showings of the original 26 episodes in April definitely helped the show, which scored its highest ratings ever in May -- and with 65 episodes available at the end of next year, the series could run daily for 13 weeks before repeating.
Viz's launch of an American version of Shonen Jump should also help the cause since the original Yu-Gi-Oh manga series by Kazuki Takahashi, which inspired both the anime and the Japanese CCG, will be one of two 'tentpole' series supporting the comic anthology (see 'DBZ and Yu-Gi-Oh Headline US Shonen Jump').