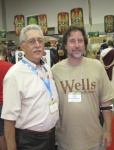 The scene at a game show is different from at a comic convention, with more fantasy, less science fiction, and definitely fewer superheroes. Here are a few of our favorite images from Gen Con, presented chronologically as they were taken on Thursday.
Father Mort and son (and uber-designer) Jordan Weisman at the Wells Expeditions booth, the home of Jordan's latest tabletop creation, Arcane Legions.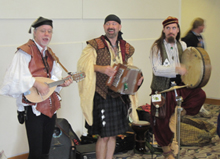 Next door at the Nanovor booth was another game
Jordan
worked on, this time with Smith & Tinker.
It combines a free-to-play online game based on TCG mechanics with Nanoscopes, offline devices (pictured here) that can be used to play alone, linked together to play with up to three other people, and that connect via USB with a computer to sync decks with the online game.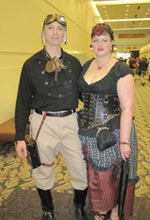 A costumed couple in the hallway.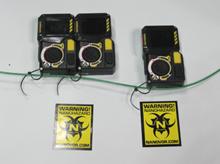 Live music from
Water
Street
Bridge
.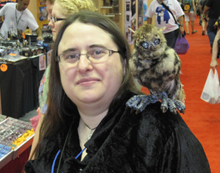 This woman had an owl puppet on her shoulder.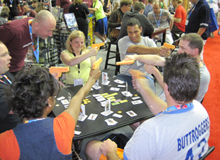 Fun with guns at the Asmodee booth.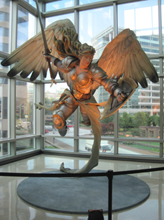 A Myndzei booth "wench," away from her booth.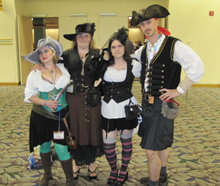 Period costumes are where it's at for many at Gen Con, including this group.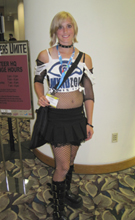 A massive rendition of the Serra Angel card from

Magic:

The Gathering

.