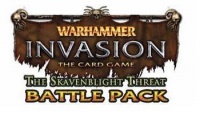 Fantasy Flight Games' October release schedule includes a pair of standalone games, a supplement for the Dark Heresy RPG, and the first expansion for its new Warhammer: Invasion living card game (see "FFG Launching 'Warhammer Invasion LCG'").
The Skavenblight Threat Battle Pack is the first monthly expansion for Warhammer: Invasion, adding the cunning, rat-like skaven to the game. Like the expansions for Fantasy Flight's other LCGs, each Skavenblight Threat pack contains all 20 of the new cards in the set and retails for $9.95.
Two standalone games, Chaos Marauders and Penny Arcade: The Card Game, are also scheduled for October releases. In Chaos Marauders, two to four players take on the roles of leaders of Orc tribes in the Warhammer universe, scratching and clawing their way to the top, typically on the corpses of their rivals. Penny Arcade casts two players as Gabe and Tycho, the protagonists of the online comic strip and contains many of the in-jokes and characters familiar to fans of the strip. Both games retail for $24.95.
Dark Heresy: Damned Cities is the last of FFG's releases for the month. The sourcebook for the Warhammer 40,000 Roleplay: Dark Heresy RPG is the second volume of the Haarlock's Legacy trilogy (see "FFG's 2009 'Dark Heresy' Release Schedule") and includes tips on running a campaign based around investigations and a detailed description of the planet Sinophia. It retails for $24.95.