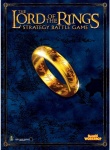 Warner Bros. Consumer Products has extended its six-year agreement with Games Workshop, continuing its exclusive worldwide rights to produce tabletop games based on The Lord of the Rings and The Hobbit. Games Workshop plans to expand their offerings of battle games and soldiers and will continue to develop and increase its offerings based on J.R.R. Tolkien's fantasy books. Look for most of the expansion to be centered on a tabletop strategy battle game based on The Hobbit property, since the two-part movie adaptation of The Hobbit directed by Peter Jackson starts filming next month.
Games Workshop has already produced a robust set of offerings for Lord of the Rings starting with the Lord of the Rings Strategy Battle Game, which includes a 240-page rulebook ($57.75), nine other substantial Sourcbooks & Journeybooks, a War of the Rings Rulebook ($57.75), literally hundreds of figures of all the various warrior types and monsters of Middle Earth, plus elaborate recreations of both the topographical and man-made features of Middle Earth, and a self-contained box game The Mines of Moria ($82.50), which functions as a sort of easy-to-play introduction to the game.
While Games Workshop has produced Hobbit figures in conjunction with its Lord of the Rings Battle Strategy Game, with the advent of The Hobbit movies and the new license it is likely that GW will create a similarly elaborate set of offerings for The Hobbit to rival what it has done for The Lord of the Rings.