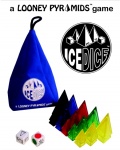 IceDice
Publisher: Looney Labs
Release Date: June 2011
MSRP: $20.00
Number of Players: 2 to 5
Playing Time: 45+ mins.
Stock #: LOO-040
ISBN: 1-929780-78-8
Age Rating:
ICv2 Rating: 4 Stars out of 5
Looney Labs returns to their line of plastic pyramid games with a creative new packaging scheme and a new game called
IceDice
. In reality, this is more of a "game kit" than a stand-alone game. The pieces can be used to play many different "Looney Pyramids" games. Like other games in the series,
IceDice
is a quick, light, fun game of luck and strategy.
Summary:
Two games are included in this set:
IceDice
and
Launchpad 23
. I will summarize
IceDice
first. Both games were designed by Andrew Looney.
The goal of the game is collect three complete sets of pyramid pieces. A "set" is three pyramids of the same color and all different sizes. There are two of each size and color combination in the game, with three sizes and five colors in all. A player gains pieces on his turn by rolling the "ice dice." One die shows the five colors of pieces and a wild side (showing an "atom"). The other die shows the different sizes of pyramids, with one or two sizes on a given phase.
After rolling the dice and selecting your piece (either from the common supply or by stealing from another player), the fun starts: you must decide to keep what you have, or push your luck and roll again. You can keep rolling as long as you don't roll the same color, taking a piece each time. If you do roll the same color, your turn ends and you lose all pieces you collected. This push-your-luck mechanic is the heart of the game. Players must choose how lucky they feel, and how much risk they can handle, as they race to complete their sets. It also provides a possible "come back from behind" scenario that keeps all players in the game to the end.
IceDice
is a two-player game out of the bag, but multiple sets can be combined to allow more players to participate.
Launchpad 23
is also a set collecting game, this time on a simple 3 x 3 board. Players compete to build a five piece "rocket" composed of one piece of each of five colors, all the same size. The twist on the game is that pieces enter play in random order, based on the throw of the "ice dice."
In turn, each player moves the pieces around the board, possibly sabotaging the work of the other players by tossing unwanted pieces onto their launch pads. This is a very light strategy game with a fairly high luck element.
Launchpad 23
is for two to four players.
Originality:
Neither of these games are particularly revolutionary designs. Push-your-luck style games have been around for a while, and there is nothing particularly new in
Launchpad 23
, either. The true originality of the game, actually, is outside of these two games. As alluded to earlier, this is really a "game kit. The pieces (and dice) in
IceDice
can be used to play over a hundred different games. The rules for these games are available for free from the Looney Labs website. Some games require more pieces than what can be found in the
IceDice
set, requiring the purchase of additional sets.
Presentation:
The delight in this game, really, is the packaging. Looney Labs has created a cute little pyramid shaped zipper bag, made of sturdy nylon, amply large enough to hold all of the pieces and a few more besides. Emblazoned with the game title, it's perfect for transporting the game pieces for fans on the go.
The pieces themselves are made of good quality sturdy plastic. Many of the pieces do have some mold scaring, which is easily rectified with a good craft knife. Sadly, the dice are printed instead of molded, which likely means that they will not take wear and use particularly well. Also, in poor light it is difficult to tell some colors apart. Lastly, a word of warning: the pyramid pieces are quite sharp, so care should be taken when playing with children.
Quality:
Looney Pyramid games are a lot of fun for people who are looking for a nice, lightweight game that's perfect for non-gamers and gamers to enjoy. The rules are easy to learn, and the bar to entry is set very low.
IceDice
offers an exciting fast-paced game that's very heavy on the luck with almost no strategy--perfect for a late night filler or playing with kids or family.
Launchpad 23
is a bit more strategic, but still easy to get into and quick to play. Neither game is going to satisfy a hard-core gamer, but using the pieces as a "game kit" offers them a wide variety of additional playing options to explore.
Marketability:
Looney Labs has a very large and very loyal fan base. The Looney
Pyramid
games have been around for some years, and offers a growing library for the fans. The packaging is very attractive, but could be difficult to display in some stores. Fortunately, a hanging loop is included at the top, making the game presentable as a pegged item or stocked in traditional fashion on a shelf.
IceDice
has a quite reasonable suggested retail price of $20.00.
Overall:
IceDice
is a great introduction to the Looney Pyramids game system. With all of the variants available, there is something with a style and complexity to satisfy most gamers, of any skill level. Standing on it's own,
IceDice
makes a delightful light filler game or family game (just watch out for the sharp points!). Either way, it's a fun little game in clever packaging with proven staying power.
--
William Niebling: Freelance Writer and Game Developer