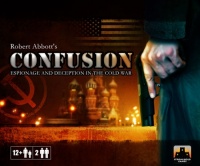 Start-up game publisher Stronghold Games has announced the June release of the Cold War themed game Confusion: Espionage and Deception in the Cold War. An expansion to the boardgame Survive: Escape From Atlantis is also planned.
Confusion is a two player game that centers on the espionage of the Cold War era. Each player controls the spy agency of one of the two antagonists, struggling to locate the "Top Secret Briefcase" and deliver it to their headquarters. The unique feature of the game revolves around the fact that the players do not know the actual skills and abilities of their own agents, requiring deductive reasoning to use their assets well.
Confusion: Espionage and Deception in the Cold War was designed by Robert Abbot. It was originally published by Franjos Spielverlag in Germany during the 1990s, but this will be the first North American publication. Suggested retail price will be $59.95.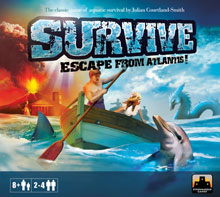 The island escape board game
Survive: Escape From Atlantis
was a success for Stronghold Games in the first quarter, and it plans to build on that success with the release of
The 5-6 Player Mini-Expansion
.
Survive
was originally published in 1982 by Parker Brothers. It challenges the players to escape from a rapidly sinking island. Stronghold Games picked up the title after it was out of print for over ten years, and re-released it in February with upgraded components and modified rules.