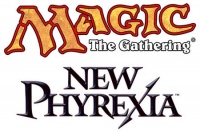 Brian Vanclieaf of Great Canadian Games & Hobbies in Sudbury (Ontario), Canada shares how the recent Magic: The Gathering--New Phyrexia pre-release went for his store.
I run a store in Sudbury, Ontario and while I don't sell comics I do have a large group of
Magic: The Gathering
players. I normally run my pre-release events on a Sunday for several reasons: customers work schedules, regular
Yu-Gi-Oh!
tournaments on the Saturday and just the fact that Saturday is a normally busy day. This year, due to Mother's Day we switched the pre-release to Saturday. My normal turnout is 36 and we always turn people away. But not this time as only 18 people showed up. The strange thing is my box pre-orders were very good. So good that I had to cut them off, so the product has buzz. I, like many others would ask Wizards of the Coast to check their calendars in the future before scheduling events.
The opinions expressed in this article are solely those of the writer, and do not necessarily reflect the views of the editorial staff of ICv2.com.



Retailers--Share with us your Free Comic Book Day stories and/or Magic: The Gathering--New Phyrexia pre-release (and include a photo or two of your event) to:

comments@icv2.com