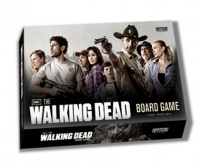 Cryptozoic Entertainment has announced the September release of
The Walking Dead
Board Game
, based on the hit AMC TV series that garnered over six million viewers in its first season.
The Walking Dead
series, which reigned as the most watched drama series in basic cable history for adults 18-49 during its run last year, will return with a second, longer 13-episode season on AMC in the fall.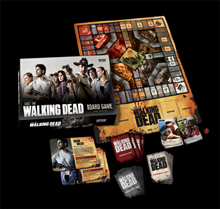 In Cryptozoic's
The Walking Dead Board Game
(MSRP $39.99) players assume the roles of their favorite characters from the TV series battling the Walkers to survive in a post-apocalyptic, zombie-infested world. Cryptozoic's game includes a fascinating mechanic—players start off as humans fending off the zombies, but if they do succumb and become a brain-eater, the game is not necessarily over for them. Players who become zombies can cooperate with others who have been infected and team up against the remaining "human" characters in the game. Cryptozoic's
The Walking Dead Board Game
is designed for 2-4 players, ages 13 and up, and it takes between 25 and 60 minutes to play.
There will actually be
two The Walking Dead
board games out this fall, since in addition to Cryptozoic's, which is based on the TV series, Z-Man Games is releasing a board game based on Robert Kirkman's
The Walking Dead
comic (see "
The Walking Dead: The Board Game
").