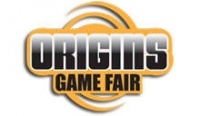 GAMA has announced that it will move the dates of the Origins Game Fair to late May (from late June) beginning in 2012. Show dates for the next two years are May 30-June 3, 2012; and May 29-June 2, 2013.
GAMA cited multiple reasons for the move. The biggest one was that the move cuts costs for attendees and exhibitors, particularly in the convention hotels, which offered a lower price for the May dates, and travel expenses such as fuel and airfares, which are lower during May than during June.
The new dates also move the show earlier relative to Gen Con and other shows, giving more breathing space between it and other similarly-positioned events.