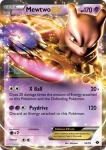 The legendary Pokemon Mewtwo returns with psychic powers intact in the newest Pokemon TCG expansion, Pokemon TCG: Black & White—Next Destinies that ships to retail for sale starting on February 8th. The Mewtwo-EX card is a 170 HP powerhouse that knows X Ball and Psydrive—two devastating attacks that inflict serious damage on the Pokemon's opponent and which make the Mewtwo-EX card one of the most desirable in the game.
The next
Pokemon
expansion,
Black & White—Next Destinies
features other powerful Pokemon from the unova region and beyond as well including Reshiram-EX, Kyurem-EX, and Regigigas-EX (see "
Next Destinies
").
Electronic versions of the Mewtwo-EX cards will also be available to those who have purchased the Pokemon Black Version or Pokemon White Version video game. Video game players with fewer than 11 Wonder cards in their possession will be able to download the Mewtwo-EX starting on February 12th. The Pokemon Website is also hosting a special showing of The Mastermind of Mirage Pokemon, a movie that features Mewtwo-EX in action in a prominent role.