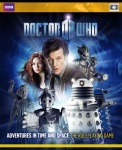 Cubicle 7 plans to release a new edition of its time-travel adventure role-playing game Doctor Who: Adventures in Time and Space in June. The new core set has all new artwork and game material, featuring the eleventh incarnation of Doctor Who.
The new Eleventh Doctor Edition will be a boxed set with everything needed to play. Inside the box will be a two rulebooks plus a quick start guide, a book of adventures featuring creatures and aliens from the most recent season of the tv show, character sheets, game tokens, and dice. Information about the characters in the show is also featured, along with pre-generated stats for playing those characters in the game.
The 144-page gamemaster guide and 86 page player guide will include full color interior art.
A four-panel Doctor Who Gamemaster's Screen is also currently planned for later in the year.