We caught up with Asmodee Executive Manager Christophe Arnoult recently to talk about the company's plans for the summer of 2012. In addition to previously announced products like
Dixit: Journey
(see "
'Digit: Journey' Will Be Sold in Mass
"), the company plans a sequel to the early Asmodee hit
Mall of Horror
, and a new edition of the 1986
Spiel des Jahres
winner
Sherlock Holmes
.
City of Horror is planned for a Gen Con release, and will be a sequel to the out-of-print Mall of Horror. The new game is built using the same game mechanics, but has an all-new setting, new characters, and additional new features. Instead of a shopping mall, City of Horror takes place in a small town. Like the original, players attempt to survive a zombie attack by sacrificing the other players to the zombies.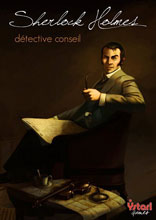 Asmodee will also release a new version of an old classic,
Sherlock Holmes
. Originally released thirty years ago and winner of the 1986
Spiel des Jahres
award,
Sherlock Holmes
is a combination party game, "whodunit" detective story, cooperative board game, and "pick your path" story book. The new edition will be released by French publisher Ystari Games with Asmodee handling the distribution of the English language version. The new version will include updated game rules and a new scenario that challenges players to solve the mystery before the great detective can.
Asmodee plans to release Sherlock Holmes in September.