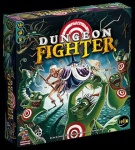 Fantasy Flight Games is preparing an August release for its Dungeon Fighter Board Game (MSRP $49.95). Dungeon Fighter is a fully cooperative board game for from one to six players that combines RPG-type adventuring with healthy doses of humor. Players take on the roles of a team of heroes exploring a three-tiered dungeon and dealing with the hordes of monsters of all types along the way.
The added element that makes Dungeon Fighter so much involves a player's dexterity. Players take turns throwing dice at a colorful target board, and special cards can make this task much more difficult by specifying that players throw the dice with their eyes closed, or under their legs, or behind their backs.
The deluxe Dungeon Fighter game includes a four-piece target board, a cardboard tower, nearly 150 cards, reference sheets, and more.