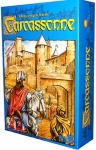 Last week's announcement by German game publisher Hans im Gluck that it was changing partners for the distribution of its games in North America from Rio Grande Games to Z-Man Games will mean that HiG games including the highly popular
Carcassonne
family of Games (see "
Hans im Gluck Goes With Z-Man Games
") will be exclusively distributed in the U.S. by Alliance Game Distributors thanks to Z-Man's decision in March to go exclusive with Alliance (see "
Z-Man Games Goes Exclusive With Alliance
"). Note: the agreement between Z-Man and Alliance applies only to the U.S., and not to Canada.
When asked by ICv2 to confirm the impending exclusivity of Carcassonne and the other Hans im Gluck games, Alliance's Mike Webb certainly didn't indicate that any exceptions would be made to the exclusive distributorship agreement with Z-Man Games: "We are certainly excited by the announcement. We look forward to working with Z-man Games during the transition and into the New Year to market, promote, and sell Carcassonne. Details will be forthcoming, but we look forward to bringing a number of products in the line to the marketplace, and to an increased marketing presence for the products."