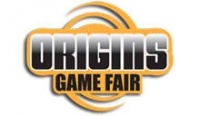 Attendance at the Origins Game Fair in Columbus, Ohio was down slightly in 2012 due largely to lighter attendance on the week days. Overall attendance at Origins was 11,332, 180 fewer than attended in 2011 (11,502). More full show "badges" were sold in 2012 (6,845) than in 2011 (6,545), but here were fewer Day Passes (4,457 to 4,957).
The Origins Exhibition Hall was sold out for the third year in a row (see "
Origins 2011 Exhibit Hall Sold Out
"). The 2012 decline in attendance represents just 1.5% fewer attendees than in 2011.