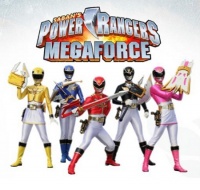 We caught up with Bandai Marketing Manager Danny Satyapan at Gen Con, who told us about the company's plans for a new Power Rangers TCG in 2013.
Tell us about your new Power Rangers TCG.
The theme of Power Rangers in 2013 is called Megaforce and it's the first time in the history of the Power Rangers franchise that the theme is about cards. Basically the Power Rangers use all of their cards, insert them into their morphers and through magic and other sorts of things, it makes them morph into different things, activates their Mega Zords and vehicles, all sorts of things.
We're going to be creating a Power Rangers Trading Card Game that plays off of that. It's probably the most support we've offered behind a CCG ever for Bandai, because it's basically our flagship brand for the company.
When will it launch?
We're going to be getting this out in February. That's when the new season airs as well.
What's the TV?
It's on Nickelodeon. When it moved over to Nickelodeon the ratings just skyrocketed because prior to that, two years ago, it was on Disney XD and although that channel's trying to be a boy destination, it was a little bit difficult. When it moved to Nickelodeon, the whole thing exploded and Power Rangers is back stronger than ever.