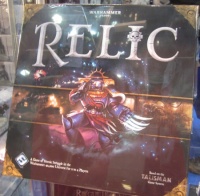 Gen Con News: At Gen Con Fantasy Flight Game's Vice President of Marketing and Communication Steve Horvath talked with ICv2 about
Relic
, a new board game set in the
Warhammer 40K
universe that should be out by the end of the year. The new
Relic
board game is based on the classic
Talisman
board game that was originally released in 1983 by Games Workshop, though Fantasy Flight Games has been publishing the game since 2008 when FFG issued a revised
4th Edition
of the game that was closely based on the fan-favorite
2nd Edition
(see "
Revised 4th Edition 'Talisman Board Game'
").
Horvath explained the genesis of the new Relic board game: "Relic has been getting a lot of buzz, too. Talisman is one of the most beloved board games of all time out there. It's been a perennial best seller, it's been a fan favorite for decades—since the '80s when it came out. It's one of the bestselling board games of all time; it's been a phenomenal success for us. And years ago in one of the original editions of Talisman, they had an expansion named Time Scape that introduced elements from the 40K universe. We thought, wouldn't it be cool if we took the game engine from Talisman, modified it, did a few twists on it, built on it a little bit and did a whole new game set in the 40K universe."
While not giving away too many details about the new board game, Horvath told ICv2 that it is closely based on the mechanics of Talisman and that the prototype of the game is already a big hit at FFG: "It's based off the Talisman game system; we've made some adjustments to it, some tweaks, to give it that unique 40K flavor, a few additions to it, as you know Fantasy Flight always does. It's set in the 40K universe. It should be out by the end of this year. It's fantastic. It's a fan favorite even in the office. We've been play testing it at lunch time and it's on the table a lot. So we're very, very excited about it."