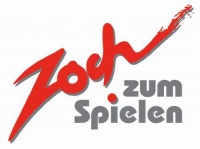 Lion Rampant and Rio Grande Games are teaming up to distribute a select line of games designed and produced by German games publisher Zoch Verlag throughout North America. The two American game companies are working together to license and distribute the innovative games from Zoch Verlag in the United States, Canada, and Mexico.
Zoch Verlag has produced a wide variety of games that appeal to various different types of gamers of all ages. Zoch has produced a variety of children's and family titles as well as some great German strategy games. The Zoch games utilize great dexterity mechanics and elegant wooden components, features that set them apart from most game publishers in Europe or North America.
The agreement means that Lion Rampant will become the North American source for such games as Ghost Blitz, Bausack, Bamboleo, and Hamsterrolle with addtional games to be announced in the future.